Our Journey To Elizabeth Xiaochai

June 06, 2000 - Leave Beijing, Arrive Guangzhou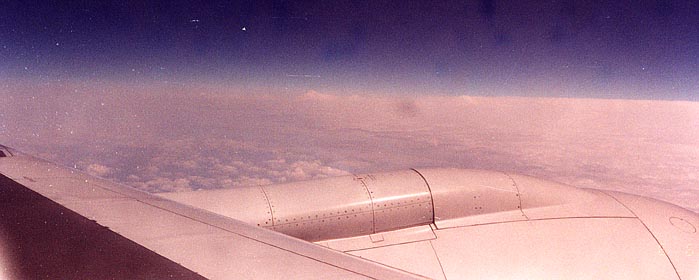 When the plane finally touched down, we taxied and unloaded down a ladder...it was H O T and H U M I D.  I had read about the heat, our guides had talked about how terrible it would be but because we are from the South, I was not worried about a little Tropical heat.  WOW - it was REALLY hot!!  It does take your breath away.  We loaded onto a bus and were dropped at the terminal.  We found our way to our luggage, paid a tax/fee of some kind to someone at a folding table and then found our guide, Sarah.

This airport is not nearly as new as the Shanghai and Beijing airports.  This felt more like China, it was just bustling with people and seemed less polished somehow, older.  There was fresh fruit for sale, one in particular that we saw a lot of in Guangdong province is "lychee".  They are red with a leathery skin.

We loaded onto a mini-van/bus with nice cool air conditioning!  My first impression of life in Guangzhou was that of poverty, more of a run-down atmosphere.  There were many Moped and motorcycle type vehicles rather than the  many bikes we saw in Beijing.  It must be too darned hot to peddle a bicycle down here!  There was a lot of new construction but the apartments seemed so old and cramped.  I took too much camcorder footage and should have taken more still photos.



Our ride ended in about 20 minutes as we pulled onto Shamian Island and right up to our hotel, The Victory.  The lobby of the hotel is really lovely (no it was not "The White Swan") but still very nice.  We were checking in for just one night as we would leave in the morning for Maoming and would return in two days to spend the rest of our trip here.  Well, I had done little or no complaining on this trip thus far....here is where I started.  (Note, our room ended up being very nice and I recommend this hotel.)  The original room seemed old and smelly.  The thought of being in it for 8 days with our Elizabeth almost had me in tears.  I asked our guide (DH was not happy with this) if we could move to the White Swan when we got back from Maoming.  She replied that BLAS had already paid the hotel and she was sure there would be a penalty of some kind.  Well, I told her to let me sleep on it before she said anything.

We scurried around and got all that we needed for Maoming into one suitcase, we were leaving the rest of our bags with the hotel for the one day we would be gone.

Our last night without our girl...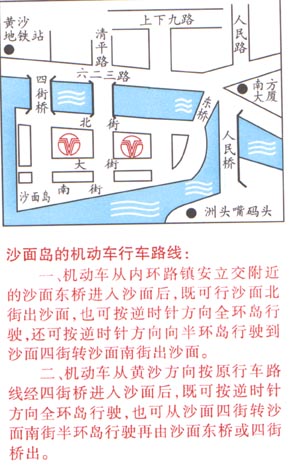 Right - This shows Shamian Island and the location of the old and new Victory Hotel buildings. 

The original building (on the left) was built in the early 1900's.  We stayed  in the new building.  It was very nice.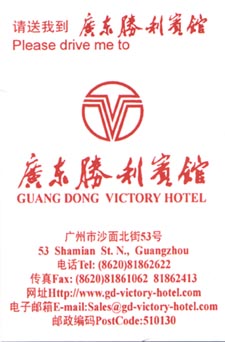 We arrived in Beijing at 9 pm on June 3, spent two days sight-seeing and now are leaving for Guangzhou.  Although we enjoyed our stay in Beijing, it feels like we have been here for a long time!!  Our flight was scheduled to leave around Noon and we left for the airport rather early as our driver was worried about the traffic.  He was right to worry - the traffic was quite heavy, there had been an accident (the first we saw) which was clogging everything up quite a bit.

Christine got us through the airport.  By this point, we had difinitely learned to fend for ourselves in any situation where a line might form.  We were one of the first in line to check our bags and I ferociously guarded our space while we waited for them to open the counter!  I did take a break to use the ladies room (squatters) and had to JUMP into the stall that I had clearly been waiting for - I was "next" but the lady who had just walked in did not care!  She tried to jump in front of me, I was taller and faster (long legs and one giant step in front of her.)  After just a few days, I had learned!  By the way, this is not considered "rude", this is life in China.

We gave Christine and our driver gifts and said our good-byes, I also asked Christine to sign Elizabeth's "When You Were Born In China" book.  They had been wonderful to us and made our stay in Beijing an enjoyable one.

Yippee!  We were off to Guangzhou!  The flight was uneventful and smooth.  Below is a photo I took outside of the window...as I looked out, I was thinking of our girl and how we were getting closer and closer to her.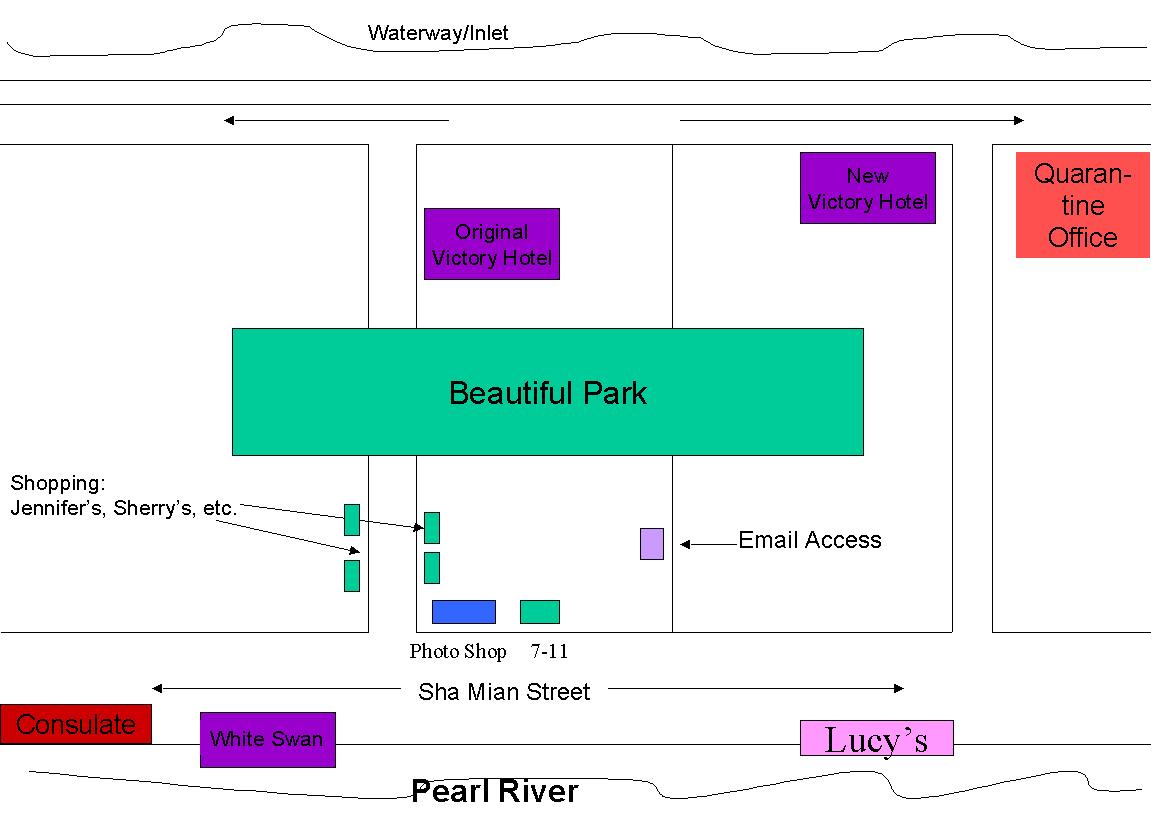 Last Update: March 6, 2007
http://www.familyoffour.homestead.com/

Copyright ©2001 Ashley V.

"The greatest gift and honor, is having you for a daughter."

Fa Zhou to Fa MuLan - Disney's MULAN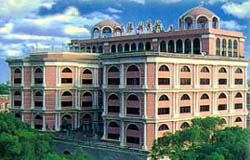 The Victory Hotel on Shamian Island.