FamilyofFour.homestead.com

Our Journey To Elizabeth Xiaochai

June 05, 2000 - The Forbidden City



----- Original Message -----

From: "Don and Ashley In China" <familyoffour2000@hotmail.com>

To: <a-parents-china@onelist.com>

Sent: Sunday, June 04, 2000 7:14 PM

Subject: Hello From Beijing, 6.5.00, 8:01 am

Hi everyone!!  We are doing well, no illnesses yet.  The weather here is hot and humid.  We went to the Summer Palace yesterday as well as the Great Wall (Badaling Pass).  We visited a Friendship store and our wonderful guide did some major bargaining for me!  She is amazing!  I find it difficult to decide what to buy and the prices are higher than I thought they would be.  We are planning to visit Silk Alley today.  We are waking every day at 4:00 am, we can't seem to sleep much later.  It starts to get light out by 4:30 am or so.  While at the Summer Palace, a man came up to Donnie and asked him what country be were from, then asked him if he had a pen.  When Donnie handed him the pen, he began to carve a dragon into it!  Our guide tried to stop him and then told us he would expect 1 yuan for the courtesy of the carving!!  Well, we felt like idiots and then gave him his yuan.  Beware!  Don't hand anyone your pens!  :)  Beijing is unreal...there are people everywhere, huge high-rise apartment building.  The traffic is WILD...how the trucks, cars, bicycles get around as easily as they do I will never know.  We have had what seem to be so many near-misses, but that is the norm here.  The most enjoyable part of touring is just driving in the van and studying how the Chinese live, work.  I know I am not taking enough pictures but will try to do better today.

APC friends: we have a real treat today, we get to tour CCAA!!!!  I almost screamed in joy when our guide told us this.  She said I could take pictures and I cannot wait to post them to our website for all of you to see!! 

(Christy and Lois, I am not sure my posts are getting to APC, would you forward them to the AUG and SEP lists as well as APC for me?) For travel, bring a tupperware bowl for washing your face, small dixie cups for brushing teeth, saline drops for plane.  Contact lens wearers, your eyes will also get very dry on the plane, bring your glasses or some eye drops.  Also, our plane had NO SOAP in the restroom, bring hand sanitizer.

We are at the Prime Hotel in Beijing, the internet access is 3 yuan per minute (much quicker connection now that it was two days ago.)  They have a nice breakfast buffet.

Well, I know I have more to share but cannot remember it all.  We leave 6-6 Tuesday for Guangzhou and then on to Maoming 6-7 via train--Elzabeth will be in our arms 6-7!!!  We can't wait.

Take care everyone,

Don, Ashley, Elizabeth Xiao Chai

and Papa Don

DTC 8.30.99

DOR 4.13.00

DOT 6.02.00 - 6.15.00

Maoming, Guangdong

Another early morning although Donnie managed to sleep a little later.  There was a phone in the bathroom that I used to call and check on Emma back home.  I could hear her voice in the background and barely made it off of the phone before I was crying.  Donnie came in and knew what was wrong without asking.  (Wow, by the time we hit Guangzhou, my heart would really be aching.)

Again, we had a huge breakfast and then I hurried off to send an email back home...

The Forbidden City really was amazing, absolutely beautiful and ornate.  There are huge trees some of which are marked as being 300 years old.  As with many places we visited, I feel that we could not really experience it due to lack of time.  It has 9, 999 rooms (9's are lucky to the Chinese), was  finished in 1420 during the Ming dynasty.  There were 24 emperors who lived there during the Ming and Qing dynasties.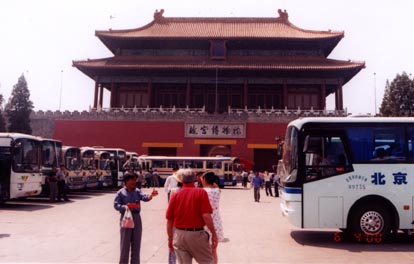 (LEFT) This is the entrance.  There were tour buses everywhere!  They were lined up and down the streets for miles.  This is our guide, my father-in-law and Me, being aggresively hounded by this man selling some souvenirs.

I do recommed buying a map of the City at the gift shop type area on the other end just before you exit.  It is very nice, has a panoramic view of the City and comes in a paper tube.  Very suitable for framing.

I must admit that while I enjoyed this immensely, I was thinking of our Elizabeth in Maoming whom we would soon meet.  The upcoming afternoon trip to CCAA was also adding a spring to my step!


Ashley and Donnie in the Forbidden City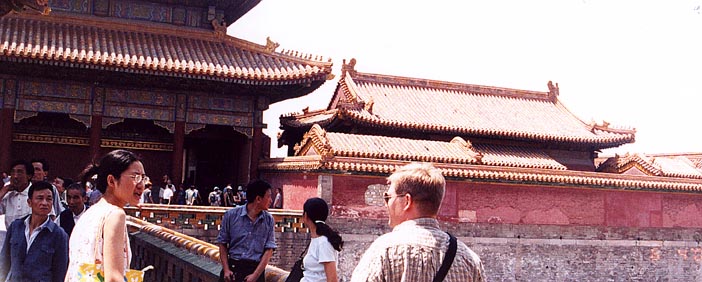 Our guide Christine and Donnie


This is an example of the ornate workmanship in the Forbidden City.  This is one corner of one roof of one building...this is everywhere in the Forbidden City and so very lovely!  I felt great pride for Elizabeth and her connection to such a rich heritage.  We look forward to showing her these pictures and the real thing in person when she is older.




Last Update: March 6, 2007
http://www.familyoffour.homestead.com/