Our Journey To Elizabeth Xiaochai

June 10, 2000

Shopping and Hard Rock Cafe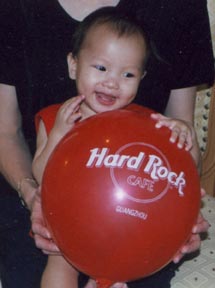 Today we went shopping in a nice downtown type area.  It was amazingly busy!  It was bustling with people - I am sure all major cities with populations of 6 million people are like this; however, we are not used to such crowded places.  I bought a few shirts in a Bossini store and other than that, I was on "overload".  There was just too much to see and decide on.  And, again, I did not think the guys were "in to" this shopping trip and I felt like I had to hurry. 

It was *really* hot so we stopped into a McDonald's for a break and a burger for Elizabeth.  I think this is where Elizabeth had her first hamburger...geez, we did not even leave China before we exposed her to this unhealthy food.  She enjoyed it (and has now grown especially fond of french fries, of which, I limit her intake!).  We did not eat, we were waiting for The Hard Rock Cafe later. 

McDonald's was another example of how you fend for yourself in line.  The order counter was jam-packed, the whole restaurant was teaming with people (and many eyes were on us).  As I waited in line, I took care to really guard my space...people were trying to get in front of me from all sides.  People were not being rude, this is just how it is in China.  You have to make your intentions known - if you want to order, you had better move quickly - no dawdling!

"The greatest gift and honor, is having you for a daughter."

Fa Zhou to Fa MuLan - Disney's MULAN



http://www.familyoffour.homestead.com/

©2000

Last Update: March 6, 2007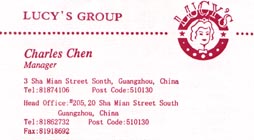 We spent the rest of the day in the coolness of the hotel with Elizabeth, shopping on Shamian Island and had dinner at Lucy's.  When in doubt, go to Lucy's, you can always find something yummy!  I think this was the night that Papa mentioned Emma back home...I lost it and started crying at the mention of her name.  Wow, was I missing that child!

We later ate lunch at the Hard Rock Cafe which is located in the China Hotel.   The hotel was very nice.  There were expensive brand shops all around and in the basement was the Cafe.  It was clean, decorated with the typical rock memorabilia and COLD - I had to put a jacket on Elizabeth, the air was really cranked!  There were not many people there.  We were all pretty hungry.  I had a veggie-burger...it came with no cheese or mayonnaise.  It was pretty good.  Papa Don did not like his chicken sandwich and Donnie liked his meal, it was a club sandwich, I think.  After eating, Donnie and I spent quite a bit on souvenirs for everyone while Elizabeth ran around delighted with the red balloon she had been given.  There were beautiful Hard Rock sweatshirts and I did get one for myself.  My DH was baffled at my purchase of a big, heavy sweatshirt - we DO have winter at home I reminded him!  I guess it was so hot, he thought he would never wear a sweatshirt again!