As if they had not been kind enough, David and Judy were both up early and drove us to the airport, Judy saw us all the way to our gate and offered her blessing for a safe trip as we boarded our first of many flights (did I mention they also allowed us to safely park our van in their carport free of charge the entire two weeks?).  Also seeing us off was Patricia H. and her beautiful daughter, Jade (adopted from China in 1997).  We were supposed to travel with Patricia and her husband, Rick; however, due to some paperwork delays, they would be traveling in July to meet their second daughter from China, Sidney.

When I look back to that first hurried boarding of our plane in Tulsa, I become tired just thinking of the many "planes, trains and automobiles" that would become a part of this journey.  As the plane took off, the tears began.  Not only do I hate take-offs and landings but the emotion of leaving Emma was hitting me (again) and I worried that we were making the wrong decision to both leave her.  What if the plane crashed and she was left without parents?  What if she became ill?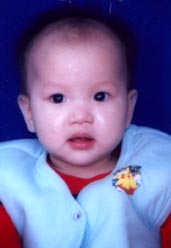 The small referral photo I stared at during much of the flight.  Quite an inspiration, huh?

To toot my own horn, I never complained!  Every now and then, I would supportingly glance over to Donnie across the aisle with a big smile (well, maybe a half grin.)  The one thing I did enjoy was waking after my many 10 minute naps and seeing on the map where we were, I remember feeling so relieved when I saw we were over Japan.  It meant we could land if an emergency dictated - and, most importantly,  it meant we were M U C H closer to Shanghai!  Hope dawned when the lights came on and we were served breakfast...ahh...light again, we had been chasing the sun all day.  The plane became more alive as everyone started to chatter and "wake up".  The end of the flight went quickly.  Our first glance of Shanghai was just after sunset and I recall that it looked misty out.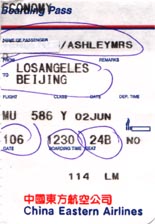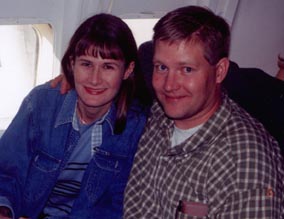 Well, of course, we made it safely to Salt Lake City and with a take-off and landing under my belt, I was feeling somewhat better.  As with every connecting flight on this trip, we rushed through the Salt Lake City airport to make our flight to LA.  As we sat on the plane, ready to taxi onto the runway, an announcement was made that the runways in LA were backed up and we would be delayed.  Donnie and I started discussing the possibility that we could miss our flight to Shanghai.  Luckily, we arrived in LA with enough time to find the international building and then made our way to the China Eastern desk.  Once in LA,  we had our first taste of what the trip would be like as there were wonderful Chinese faces everywhere and our familiar world was becoming less and less so. 

Waiting on the runway in Salt Lake City

While we waited for the plane to board, I realized it was the first time in my life that I did not look like those around me.  It was humbling and good practice for the next two weeks.  One of the real tests of my life (other than having to leave Emma) began at approximately 1:30 p.m., Pacific time on June 2, 2000, when I boarded flight 586 on China Eastern airlines for a 12 hour non-stop flight over the Pacific Ocean.

The plane was not booked full which was great so that we had more room to spread out for the big blackout when all the window shades were pulled and the lights turned out.  We had been fed a meal and at least two snacks before we were "put to bed".  I had plannd to write thank-you's from Emma's third birthday party in May...nope, no concentration for that.  I was advised that we should sleep as much as possible on the flight, so, I spread out across my two seats, popped two Dramamine and, well, I eeked out maybe 30 minutes of horrible sleep.  Even with the loud engines of this MD-11 lulling me to sleep, I heard every sneeze, every cough, every crinkle of paper.  The air in the cabin was getting drier and drier, my sinuses were aching, my contacts were stuck to my eyeballs - did I put my glasses in the carry-on?  Of course not!  After 3 hours of the dark, hot, cramped space, dry sinuses, sticky contacts and an unsatisfied craving for a Taco Bell 7 layer burrito, I can honestly say that I was M I S E R A B L E.  

Seeing the coastline and then the precious land of China was really amazing.  We were finally here in H E R country.  The place that held this precious gift for our family.  I was ready to take it all in and felt more bonded to her with every new taste of China.  My daughter, whom I had yet to meet, had already taken me on such an adventure.  She had taught me so much and had expanded my world in so many ways.  What a special little life.  I remember smiling when I realized that she and I were finally in the same time zone.  From now on, we slept at the same time, saw the light of day at the same time - that was significant for me.

We arrived in Shanghai at around 5:30 PM China time.  I remember feeling okay but a little frazzled, just ready to get off of that plane.  It was rainy and muggy out.  The Shanghai airport was very impressive and appeared to be quite new.  We just followed the crowd, showed our passports to a very stoic Chinese immigration official and then found our seating area for the last leg of the journey to Beijing which required no plane change.  We spent our time talking with a Chinese-American college student who was making his first trip to China.  Donnie had gotten to know him during the long flight.  He was born and raised in the Dallas area although his parents made sure that he also had a Chinese upbringing as he spoke beautiful Mandarin Chinese.  What a wonderful gift his parents have given him.  (Hello Jessie!) 

The plane left as scheduled for Beijing.  Nothing extraordinary happened during this short flight.

Last Update: March 6, 2007
http://www.familyoffour.homestead.com/

Copyright ©2007 Ashley V.



Our Journey To Elizabeth Xiaochai

June 2, 2000  -  The Flight

Sleep?  How am I supposed to sleep?