Our Journey To Elizabeth Xiaochai

June 14, 2000  -  Pick Up The Visa



http://www.familyoffour.homestead.com/

©2002

Last Update: March 6, 2007
"The greatest gift and honor, is having you for a daughter."

Fa Zhou to Fa MuLan - Disney's MULAN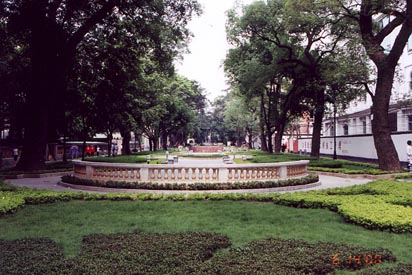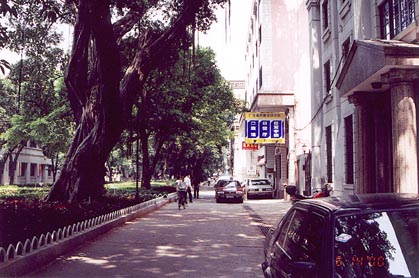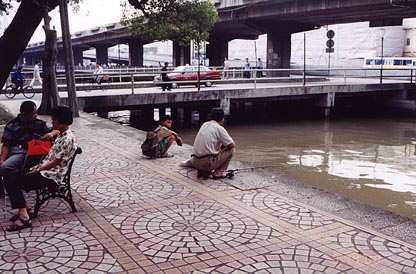 Shamian Island is really beautiful.  This is the one section of the park that is sandwiched between the main streets, it is in the middle of the island.  There is also a lovely park on the shore of the Pearl River.  We took lots of photos there - however, did not get home with that roll of film!

The water inlet in front of The Victory Hotel.  Just past the water and across the busy street, there were open air markets and the "real" Guangzhou.  We took several walks and  just observed life.  One of the markets was with live animals...fish, chickens, ducks, aquatic life, etc.  We did not have to see any be killed, but many were quite "fresh" and the others were alive.  There was another "dry" market with dried seahorses, thousands of dried snakes all coiled up!!  There were also spices, roots, hooves from goats...lots of stuff you hope NOT to have in your food.

Left - This is one of the walkways/streets that runs between the main streets on Shamian Island; it runs through the park.  These beautiful trees are marked with their age, many are 300 years old.

Below -

Catholic Church on Shamian Island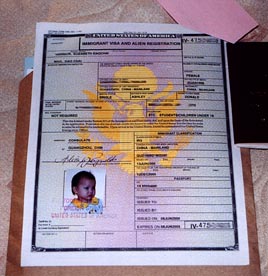 Here is the the whole point of the stay in Guangzhou...the "brown packet" of paperwork and Elizabeth's VISA!!! 

The brown envelope contains all of the paperwork we brought with us...tax returns, INS forms, employment verifications...who knows what else.  It has to remain SEALED...if it is opened before being presented to the INS official in LA...Elizabeth can not enter the U.S.!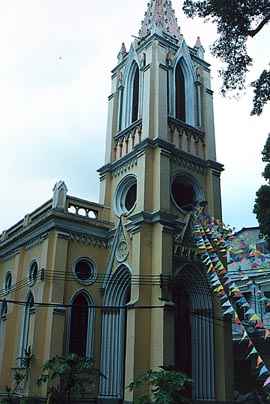 The day was spent packing and getting ready to leave.  We had commissioned one of the marble etchings to be made of Emma and Elizabeth and it was still not done at 9:00 P.M.  We had walked by earlier in the day to see the progress...Emma's eyebrows were way to thick and she looked like Eddie Munster!  Well, I was packing and Donnie went down at 10:00 P.M. to see how it was coming along...the eyebrows were still too thick and he had a hard time explaining that to them!

It turned out nicely in the end and we were happy with it.  It cost 400 Yuan, $50.00.

We ate at Lucy's quite often while on this trip.  They had a broad range of western foods and cold drinks.  There are always Chinese as well as Westerners eating there.

Our last night there, we were so happy to be heading home.  The juke box starting playing "Pretty Woman" by Roy Orbison!  We serenaded Elizabeth and she danced with her sqeeky shoes keeping time!  What a great moment.  Here we are belting out an American classic to our beautiful Chinese daughter in a restaurant in Guangzhou, China.  It is one of those moments you want to bottle and re-live.  She had all eyes on her and she loved it!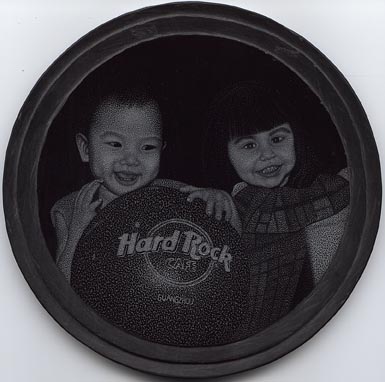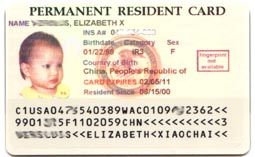 Left - Elizabeth's "green card" which came in the mail almost one year after arriving home.  All of the information on the visa is used to process the resident alien card.  In the "old" naturalization process, we would have had to give this up to INS...now with the implementation of the Citizenship Act, it looks like we can keep it.