As prepared as I thought we would be to leave for home - we were not.  We had failed to get all of our shopping done or to get packed early.  We were set to awake at 4:45 am on Thursday in order to make it to our flight at 8:05 am.  At 9:30 pm Weds night, Donnie was still down at one of the shops waiting for our granite etching of the girls to be done.  Emma's eyebrows were too dark and there was a language barrier - finally with the help of a digital interpretor, he got his message across that they were not right. 

I did not sleep at all that night and the morning was hurried.  My dear husband and father-in-law were making jokes at my expense when I wanted to dry my hair some before we left.  I was about to take a 16 mo old on a 24 hour trip from bus to plane to tram to...well, you get it...and all I wanted was to partially dry my hair for 5 mins to be more comfortable!  Men!

We rushed to the lobby all the while checking for the important items...our passports, baby's passport, VISA!!, luggage, money... on and on... I was just sure we missed something.  I do know we left a stacking cup in China someplace.  I just could not stand that we were leaving one of Elizabeth's cherished stacking cups behind!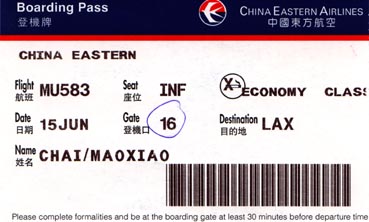 The plane finally boarded and I was quite anxious to get home but knew this last leg of our journey would not be easy.  Thank goodness I had asked our guide, Sarah, to write a note in Chinese requesting bulkhead seats to better manage Elizabeth.  China Eastern was wonderful and gave us the whole first row after the first class section. 

Once on board, I had to convince the stewardesses that Elizabeth was not too big for the bassinette that attaches to the wall.  I got her to sleep in the floor on a pallet about two hours into the flight, (she was just too hot in my arms).  Somehow I bent over and lifted her straight up without waking her and placed into the bassinett.  There was a zippered flap that acts as a seat belt of sorts, I strapped her in and we breathed a huge sigh of R E L I E F.

I was glad Elizabeth slept but I guess I just do not have the knack for sleeping on those long flights.  The eye patches, ear plugs, pillows and sleeping pills just don't do it for me.  The one time I WAS sleeping, I felt a continual bump, bump (no, not turbulence)....I opened my eyes to find my father-in-law slamming his leg onto the floor due to his "restless legs".  I got my husband's attention and we were laughing so hard we were crying.  I mean, by this point we were so tired, hungry, jet-lagged and sick that we were punchy.  Yes, Papa, we were laughing at you!!  :)

We landed in Los Angeles at around 11:30 AM, 3 hours later than the time was when we first left Guangzhou; however, we had been traveling for 15 hours.  We were trying to get into a "red alert" mode with documents ready for when and if the INS officer so much as breathed in a certain direction.  (The visa packet was in a big ziploc bag, fully protected from the moment we had received it.) 

The wonderful Chinese passengers who had filled the aisles to get off of the plane allowed us to squeeze through first -amazing (in China, you fend for yourself)!  We loaded onto another bus and once it unloaded, wow, what a stampede to Immigration!!  It was so confusing...there were signs for "US passport holders" and then signs and lines for other passport holders.  Well, we had both, US and Chinese passports.  Now what??  (I must say, every INS officer we came in contact with was nothing but kind and warm to us!)  After good advice from an INS officer, we got into the correct line, showed our passports, Elizabeth's passport, turned over the visa packet and were done in minutes.  I thought this process was supposed to take hours!  Our little resident alien was ready to take on her new country, and was I happy to see my wonderful USA again!

We left the international building and tried to find the Delta check-in counter for our flight to Dallas.  There were 5 minutes to spare before our seats were going to be given to someone else.  "They" had taken us OFF of the flight when they learned of the delay in Shanghai and had booked us on a flight leaving at 9:00 pm going to Nevada.  WE MADE IT (after my husband insisted they honor our tickets) and boarded the plane en route to Dallas.  This Mom would NOT have been happy had we been bumped!

Throughout this flight, I was S I C K (remember that hotdog!).  Every time I *thought* I needed the lavatory...the food cart was in the way!  About mid-way, I broke down crying!  I was so sick, so tired, had major dragon breath, Elizabeth would not leave my arms (even for a second), I missed our Emma terribly...it was time to go home, this Mom was spent!! 

The one pleasant memory I have of this flight - MY FIRST REAL WESTERN MEAL since leaving two weeks prior.  A good ol' ham and cheese sandwich with BBQ chips!!  (And did I mention a Coke WITH ICE!!)  But, don't misunderstand, the Chinese food was wonderful.  However, at this point, I needed familiar things.

Upon arriving in Dallas, we were all on our last bit of any energy, Donnie was getting a sinus infection, Papa Don we know was a little homesick.  As we waited on the runway - which for some reason was a really long wait - many passengers on the plane had begun to ask us questions.  Before I knew it, most of the rows around us were involved listening to our China travel story. 

We stood to stretch our legs when it looked like we might *finally* disembark and, with all eyes on Elizabeth, she decided to...well..."fill" her diaper.  Let's just say she was obviously being stricken with what her poor mother had been suffering from since just before landing in LA.  Elizabeth not only filled the cabin with a lovely scent but she also made a face and threw in a few grunts - Welcome to America, Elizabeth!  The whole plane was roaring with laughter!



This page was last updated on: March 6, 2007
We took a mini-van to the airport - yet another "rush".  We were the center of attention as we checked our luggage while I held our precious daughter who was wearing only her diaper, booties and a kimono-style shirt.  We took her straight from bed out the door with warm congee ready to go.  At this point, I was no longer worried about the clothing police!

We hurried to the check-in counter to wait for our flight.  Our guide took us as far as she could and then we had to say good-bye.  I broke down crying because we were taking Elizabeth from her province, the only place she had ever been.  Through the sadness was also joy because we were leaving with this angel - this gift - but I felt a draw to her home, this familiar world of smiling Chinese faces.  Our guide, Sarah, was very fond of Elizabeth and I know she was sad to see her go.  We waved good-bye and waited to board the plane. 

While we waited, we organized ourselves, fed Elizabeth some congee and put her in the Baby B'Air for the flight.  After Elizabeth had some breakfast, she promptly fell asleep.  I actually ate the breakfast I was served...a hotdog in a biscuit - a decision I would later regret (mainly because I had not eaten a hotdog in about 10 years!).  The trip to Shanghai was uneventful and China Southern provided congee for Elizabeth during the 2 hour flight.

In Shanghai we had a 5 hour layover which I had been dreading.  It turned out to be nice that we had the time to stretch our legs and "regroup" as we prepared for the big flight over the ocean.  The airport was very beautiful and quite new; very impressive.  We were a little lost at first but found our way quite easily. 

We grabbed a quick lunch and had a chance to exchange yuan for dollars.  Our flight was delayed for 20 minutes and we were starting to worry that we would miss our connecting flight out of LA as we only had an hour if the plane was on time to get through immigration, leave the International building and get to the Delta check-in counter. 

We would worry about that later.  The daunting task at hand was to make it through an 11 hour flight with a 16 month old and a grandfather with restless legs.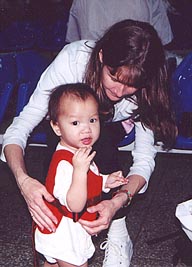 At the Guangzhou airport Mom adjusting Elizabeth's Baby B'Air flight vest for the trip to Shanghai.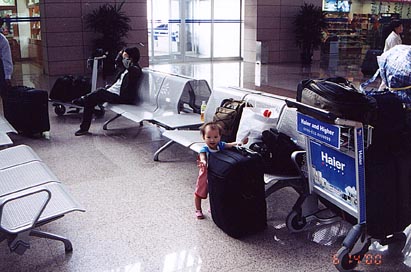 During our five-hour wait, we met a husband and wife who were from LA and visiting family in China.  They, too, were waiting for the 3 PM flight to LA and were very interested in Elizabeth's story.

We waited here until it was time to get boarding passes and check our luggage.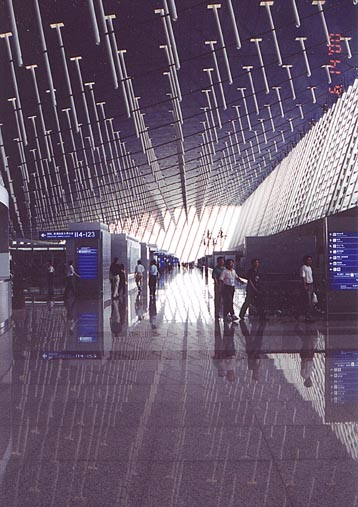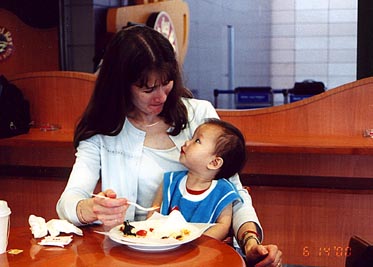 Our last photo in China.

We grabbed lunch at a little deli in the Shanghai airport. This was Elizabeth's first taste of veggie pizza!

This is the inside of the Shanghai airport.  It was really beautiful.  Shiny marble floors and these spikey type things in the ceiling.  (They are reflecting on the marble floor).  It was very open, clean and well-lit.

We were all pretty silly (although, I don't think anyone else had been traveling for almost 30 hours with no sleep.)  Once in the airport, I found a bathroom - there was not a changing table - unbelievable!  I had to throw down a blanket onto the floor and strip her down right there. She required a bath in the sink!  Once again clean, I put her in one of her silk dresses and squeeky shoes for the big meeting in Tulsa!  I washed my face and tried to freshen up.

While we waited to board, my sweet (and very tired) husband brought me Pizza Hut bread sticks and an ICY iced tea to enjoy while we waited to load - what a wonderful man!  Elizabeth "squeeked around" while I tried to eat - she was getting an awful lot of attention!

Just one more flight...Dallas to Tulsa!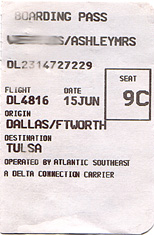 Our Journey To Elizabeth Xiaochai

June 1 - Leaving Home

http://www.familyoffour.homestead.com/

©2005, Ashley V.



June 15 - Leave Guangzhou for Home

32 Hours Without Sleep

Elizabeth Xiaochai guarding our luggage at the Shanghai Airport