Our Journey To Elizabeth Xiaochai

June 9, 2000  -  It's Official!

"Do you promise to love and never abandon this child?"



Our appointment at the Civil Affairs office was at approx 10 am.  We rushed to the lobby of the Victory where we met Sarah.  We all piled into a taxi and headed into the wild traffic.  Elizabeth still did not like riding in vehicles and she wimpered and held onto me tightly.  Before the 15 minute ride was over, she was asleep.  As we pulled up, there was a torrential downpour.  The driver was unable to pull right up to the door as the area in front was blocked off with cement curbs and other vehicles.  Sarah popped an umbrella open, Donnie jumped out to get our precious backpack from the trunk, I negotiated my way out of the small taxi with a sleeping baby while also trying not to step in the "river"of water rushing down the street.  The Civil Affairs office was being renovated so the offices were located temporarily in an old hotel!  It was "interesting" to say the least.  Different offices were located in old hotel rooms, there were copiers in the bathtubs, the beds and furniture had all been removed, however.  We went from floor to floor, it was rather confusing since this was the temporary offices.  We had to go to one room to have our family photo taken, wet hair and all!  (See Below). We finally made it to a room where we would unzip that bulging backpack and start pushing some paper!  This was Go time...we were digging for paperwork as Sarah asked for each item...visa photos, our passports, notary paperwork we had gotten in Maoming.  It was nerve-wracking, I held my breath as I searched for each document, exhaling as I placed my hands on each one!  I had to write for us a statement explaining how we planned to care for

Elizabeth, what type of education plans we had for her, why we wanted to adopt a daughter from China. I had to list our names, ages, addresses, jobs, salaries.   As we finished them, Sarah would take the documents to another room and then pop back in with more for us to fill out. 

Finally, she and another lady came in.  The lady stood directly in front of us.  I will never forget this moment the rest of my life.  She looked us right in the eye and asked:

It's done!  For the rest of our lives, we have the sincere honor of being the Mom and Dad to this precious child!  For such a life-changing moment, we were in pretty humble surroundings and wet from the rain, but none of that mattered at the time.  It was one of those moments in life of pure joy - you are moving in slow motion with truly not a care in the world.  All you know is that you are holding this gift of life and swimming in the amazement that you are about to spend the rest of your life with her.  Needless to say, I was crying my eyes out, Elizabeth was warm in my arms, Donnie was leaning over and kissing her on the head, it was a wonderful, magical  moment.  Perfection.

We were presented with a beautiful certificate (above) which was enclosed in a red hard-backed folder, it had our family photo, (above), and our names, dates of birth, etc., it was all in Chinese.  They also gave us a jade heart pendant with Elizabeth's Chinese name and date of birth etched into it!  It was now official - in the eyes of the Chinese government, we are now Elizabeth's parents!!  (Of course, in our eyes, we had been her parents for much longer!)

http://www.familyoffour.homestead.com/

©2000, Ashley V.,



Last Update: March 6, 2007
"The greatest gift and honor, is having you for a daughter."

Fa Zhou to Fa MuLan - Disney's MULAN

"Is this the child you were referred?"...YES! 

"Do you love this child?"...YES, DOUBLE YES! 

"Do you promise to always care for her, love her and never harm or abandon her?...OHHHHH, YES, we promise! 

"You are now the parents of Mao Xiao Chai.  Congratulations!  We wish your family much happiness."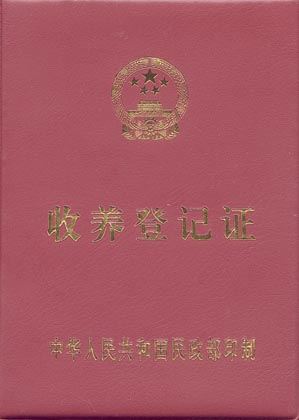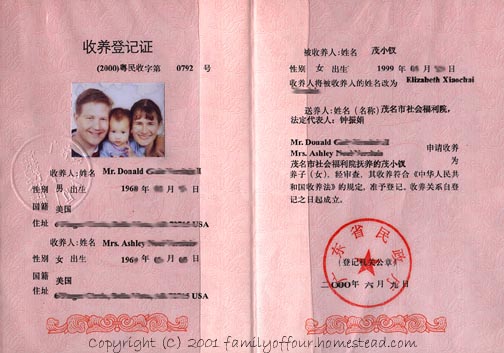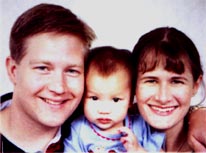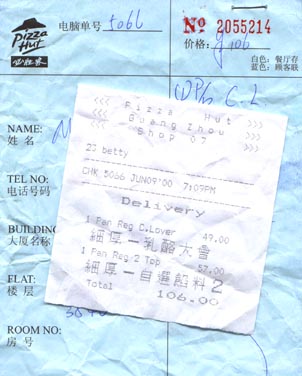 For the remainder of our day, went shopping and just relaxed on Shamian Island.  It would get so hot in the afternoons that spending precious time in the air conditioned hotel with Elizabeth was our favorite thing to do!  The most important part of the day was over with and I certainly remember that!

For dinner that evening, I did not want to go out--and was missing familiar foods--so, I ordered pizza from Pizza Hut.  I ordered what I thought were two small pizzas, hoping to have plenty to eat.  Well, when they were delivered, they turned out to be a personal pan size!